Course Design & Delivery
Overview: Development often starts in a training room. We strive to deliver engaging, application oriented, and dynamic content. Our consultants are not only strong facilitators but also content designers. We are subject matter experts and therefore can tailor a course and / or design a course based on the needs of your business. We also have a wide array of popular courses that our clients have found useful for developing their staff. Please see list below for a sample of subject areas.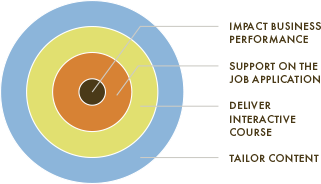 Process: To identify the right courses for you, we will first discuss the behaviors, challenges, and business goals your organization is experiencing or working toward. Once we identify the results that are needed, we provide a recommendation of courses, timing, and delivery approach. We work with you to finalize the best-suited strategy for building the skills as needed.