Course Design & Delivery
Overview: Development often starts in a training room. We strive to deliver engaging, application oriented, and dynamic content. Our consultants are not only strong facilitators but also content designers. We are subject matter experts and therefore can tailor a course and / or design a course based on the needs of your business. We also have a wide array of popular courses that our clients have found useful for developing their staff. Please see list below for a sample of subject areas.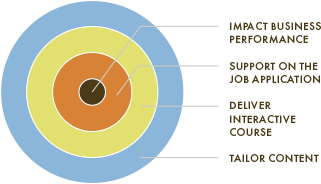 Process: To identify the right courses for you, we will first discuss the behaviors, challenges, and business goals your organization is experiencing or working toward. Once we identify the results that are needed, we provide a recommendation of courses, timing, and delivery approach. We work with you to finalize the best-suited strategy for building the skills as needed.
Platform: We are skilled and experienced at facilitating content in all settings. This includes virtual, in-person and blended approaches. We collaborate with you to determine the best approach based on the goals of the course, safety considerations and dynamics of the participants.
Topics: Our content is tailored to support any topic that enables the people side of your business. We cover a wide range of courses, to include but not limited to, the following areas:
EXECUTIVE LEADERSHIP – Strategy, Presence, Communication, Leading Leaders, Situational Leadership, Executive Team Performance
PEOPLE MANAGEMENT – Performance Management, Receiving & Giving Feedback, Conflict Mediation, Coaching & Development
INDIVIDUAL PERFORMANCE – Time Management, Presenting, Negotiating, Career Planning, Critical Thinking, Email, Professionalism 
TEAM BUILDING – Collaboration, Navigating Conflict, Strategic Delegation, Service Standards 
INNOVATION & CHANGE – Dynamics of Innovation, Creating the Future, Change Leadership, Project Management, Influencing, Storytelling
CULTURE – Cultural Intelligence, Non-Biased Feedback, Equitable Talent Planning, Emotional Intelligence, Respectful Workplace
MINDSET & WELLBEING – Resilience, Stress Management, Mindfulness in the Workplace, Preventing Burnout
Tools: We use a variety of assessments, guides, dynamic discussions and activities to ensure retention and application of the best practices shared in each of our courses. Some of the popular assessments we are certified in include: DISC, Myers Briggs, Thomas Kimann, Birkman, Hogan and ESCI (Emotional & Social Competence Inventory).