Team Building Events & Meeting Facilitation
Overview: The time and resources it takes to bring a team or entire organization together is usually a rare commodity; which makes it critical that you use the time wisely and are able to drive results. We specialize in the strategic design of agendas that incorporate business priorities and engaging activities for all participants. This not only drives soliciting input but also helps build in accountability and development.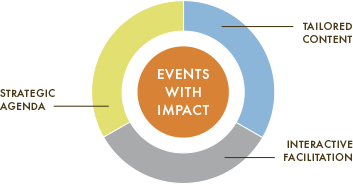 Process: We partner with you to identify what content would best align with the strategic direction you are looking to drive your business towards. We will help build the agenda if needed, as well as recommend facilitation approach, timing, content, and participation. Our consultants can serve as designers, facilitators, and/or thought partners for your upcoming event.
Platform: We are skilled in facilitating meetings and events with a variety of different platforms. This includes teleconference tools, multiple videoconferencing platforms and, of course, in-person dynamics. We have experience working with small, focused meetings, as well as large-scale events. We work with our clients to determine the best approach to accomplish the goals of the meeting or event.